We're Getting Mutants in the MCU - The Loop
Play Sound
Zoe Murphy is the youngest child of Cynthia and Larry Murphy and is also Connor Murphy's sister. She plays in her school jazz band and is commonly known as more bubbly than her older brother. She also serves as the primary love interest to Evan Hansen in both the musical and the novel, seeing him as an awkward and anxious person. She is played by Laura Dreyfuss in the Broadway Musical.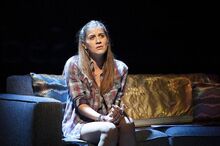 Appearance and Personality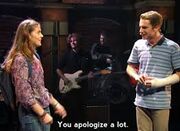 Zoe is the youngest member of the Murphy family, daughter to Cynthia Murphy and Larry Murphy, sister to Connor Murphy. She is sixteen years of age, making her one year younger than her brother. Zoe was born into a very typical upper middle-class family, with her father working as a lawyer and her mother as a stay-at-home mom.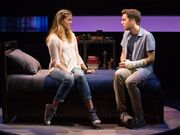 Zoe is shown to be quite aloof from her family, to the point where she hates her brother and sees him as a monster, and doesn't hold much respect for her mother. However, she is shown to open up to those that interact with her positively, one such person being Evan. She may not show it or directly say it, but she wants attention, used to having her brother have the spotlight as the 'problem child.' This usually lead her to having the backseat when it comes to attention and interaction from her parents. She is witty and sarcastic, and uses sarcasm as a way to talk to and mock her parents, who she believes aren't doing a good job at parenting, if her brother's passing is any indication.
Songs
This is the first introduction to Zoe found within a song, albeit a brief one. Each of her interactions in this song pertain to Connor in some way, helping show his importance both to her family and her.
Connor, or the Connor that is fabricated by Jared and Evan, claims Zoe is hot due to Jared's teasing, causing Evan to grow quickly embarrassed.
This is Zoe's first major song. In it, she questions why she has to act like her and her brother were close, and that she is truly saddened by his passing, mocking those that pretend that they were Connor's friend and truly grieve his loss. Throughout the song, she is conflicted with how she should feel about her brother's passing, being told it is okay to grieve his death by others but finding it hard to do so. Her outlook on how she should view Connor's death is mostly negative, though deep down she remembers him for what he was, and is just trying to find her own way to mourn.
This song is supposedly about the way Connor would talk about Zoe to Evan, even though Connor's thoughts are fabrications, and are just the feelings Evan has towards Zoe. This is one of the first times you begin to see Zoe see her brother in a different light, and she begins to think that he just didn't know how to express his love for his sister to her. She doesn't sing many lines in the song at first, instead listening raptly to how her brother 'really viewed her.' She begins to sing in the latter half of the song as she begins to question her outlook on Connor and how she treated him.
By this point in the musical, Zoe begins to realize how much Evan has helped her when it comes to her brother's death, letting her see this side of Connor she wasn't aware of through Evan's interactions, and she reflects on Evan's impact in her life and how much he has helped her.
Zoe is tired of Connor's death being an elephant in the room when it comes to her blooming relationship with Evan, and throughout the song asks Evan if they can just stop bringing up Connor's death and just enjoy each other's presence and company, to which he agrees. At the end of the song, they share a passionate kiss, and it is implied they become a couple from that point onward.
In this song Zoe is only implied, as she had left the room after Evan revealed the truth about the letter. Evan wanted to be a part of her family, Connor's family, and it allowed him to get close to Zoe, which was something he wanted from the start. However, here he questions how he could have expected to have the perfect family and "that perfect girl." This marks a huge turning point in Zoe and Evan's relationship, as they very quickly break up and don't speak with one another until about a year later.